HANOI PROPOSES ANOTHER METRO LINE PROJECT WORTH US$2.8 BILLION
28/04/2021
This is one of the eight metro projects Hanoi plans until 2030 to improve the city's public transportation system.
Hanoi has submitted a pre-feasibility report on a VND65 trillion (US$2.8 billion) metro line project linking Van Cao street and the Hoa Lac High-tech Park, Kinh Te & Do Thi reported.
In the appraisal of the Metro Line 5 pre-feasibility study report, Hanoi authorities suggested setting up a national appraisal council to review it before submitting the report to the National Assembly in late 2020.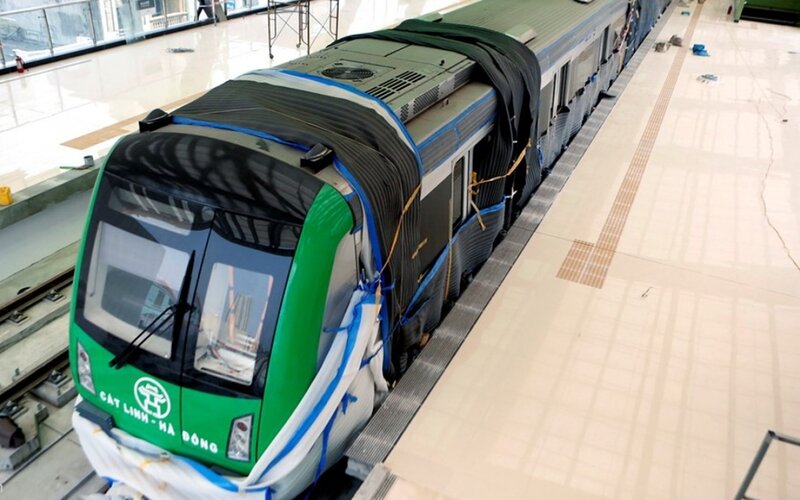 Hanoi's first metro line, Cat Linh – Ha Dong. Photo: Internet
This is one of the eight metro lines Hanoi plans to build until 2030 to improve the city's public transportation system and ease traffic congestion.
Spanning 6.5km underground and 2km elevated, Metro Line 5 will run through seven districts. After running underground through Van Cao, Lieu Giai and Nguyen Chi Thanh streets, it will start running on surface in Thang Long boulevard. An elevated section will be built above Le Quang Dao street.
Of the total of 21 stations, six are located underground and 15 elevated with a rolling stock of 25 to 40 trains of four to six carriages each and running at speeds of 120 km/h above ground and 90 km/h underground.
Of the estimated cost of over VND65 trillion (US$2.8 billion), VND24.8 trillion (US$1 billion) will be construction cost and VND16.6 trillion (US$713 million) will be used to buy equipment.
In terms of funding sources, VND15 trillion (US$646 million) is sourced from the city's budget, some VND18 trillion (US$773 million) will be funded with proceeds of divestment from state-owned enterprises, VND10 trillion (US$430 million) from government bonds and the rest from loans.
Construction on the metro line is scheduled to start in 2022, and the line will be put into operation in 2026.
Currently, two metro projects in Hanoi, Cat Linh-Ha Dong and Nhon-Hanoi Railway Station, are almost complete. The Cat Linh – Ha Dong line is in the final safety assessment stage, although no deadline has been set for commercial operation. Test run for the second line is scheduled for the end of 2020. However, travel restrictions caused by the Covid-19 have prevented foreign experts from entering Vietnam, affecting the progress of both metro railway projects.
Source: Hanoitimes
Tiêu Điểm